Ex-US marine jailed for 12 years over abuse of children
James Ledbetter molested two boys and a girl in America and Scotland.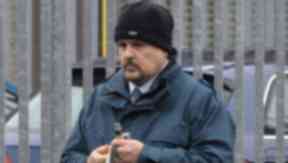 A former US marine who sexually abused two boys and a girl has been jailed for 12 years.
The abuse by James Ledbetter took place in the US and Scotland over a 14-year period.
At the High Court in Glasgow on Friday, Lord Burns also ordered Ledbetter to be monitored in the community for five years after his release from custody.
Lord Burns told the 51-year-old: "The jury convicted you of very serious sexual abuse on three children over a period of 14 years.
"One boy was abused from the age of six. It is impossible to estimate the consequences your actions will have on these unfortunate individuals."
Although the majority of the offences took place in Texas between 1997 and 2005, a deal was struck between US prosecutors and the Crown Office that the case should be tried in Scotland.
The court was told Ledbetter is likely to be deported to the US after he serves his prison sentence.
Speaking outside the court, a spokesman for the victims said: "We will be writing letters to try to ensure he is deported as soon as he leaves prison."
He added: "The public has to realise how much of a danger this man is to children. He should be sent back to the USA."
One young victim was given alcohol before being sexually abused between the ages of six and 12.
Ledbetter, from Falkirk, showed another young victim, aged between 11 and 13, pornographic films before abusing him.
The girl Ledbetter sexually assaulted was 14 when he began inappropriately touching her.
The court heard how the accused, who was most recently working as a security guard, would give his victims PlayStation video games and sweets after molesting them.
Defence QC Ian Duguid said: "Mr Ledbetter will almost certainly be deported. I think it is almost inevitable.
"He will be a much older man when he gets out of prison.
"He accepts that these offences will have have caused traumatic experiences for all three children concerned."
Mr Duguid added: "One boy was aged between six and 12 and the other boy was between 11 and 15 and the girl was aged between 14 and 15 when they say they were abused.
"Mr Ledbetter's position now is that he accepts some of the abuse but not all of it. He says his recollection of events in unclear because he had a drink problem from 1994 to 2014."
Ledbetter denied all the charges against him in court and claimed his victims were lying.
His story was rejected by jurors, who found him guilty of the abuse.